Upholstery fabric reflects furniture character as well as sets trend to every interior. We will advise you how to choose the best matching and functional fabric from the whole palette. Elegance, modern minimalism, strong colour accent or comfort? Which of them are crucial for you? Choose a fabric based on furniture function.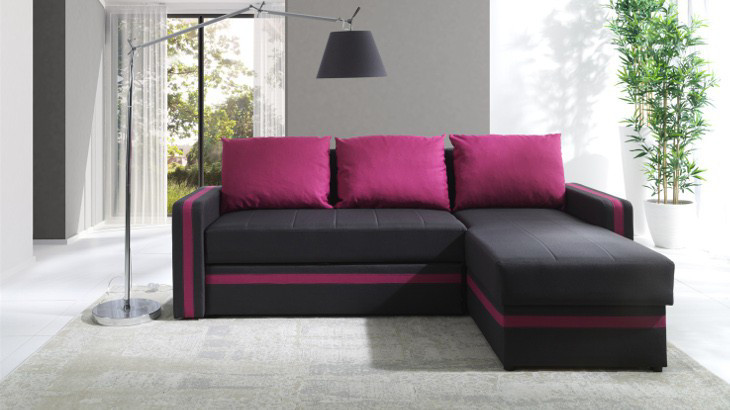 Modern Corner Sofa EUFORIA PINK
Specify your needs and expectations
If you have a pet or children, bright colours can be a nightmare, flower patterns will not be looking professional in law offices, while fabrics that absorb dust wil be excluded for people who suffer from allergy. Your fabric selection should reflect those issues.
The frequency of use is also very important. If you sofa or armchair get daily use, consider the choice of more durable materials. Abbrassion resistance is here crucial,
You need to specify your needs and then find a balance between design and functionality.
To make such a choice the knowledge of fabric properties would be very useful.
Properties of the most popular upholstery fabrics
We already know our expectations regarding our sofa or armchair. Now it's high time to meet the most popular types of upholstery fabrics and choose one that meets our needs.
Chenille
Thick, soft and mellow fabrics that are available in a wide range of colours. They mainly consist of acrylic and polyester so that they are easy to clean and do not pill. They are highly recommended if children or pets live in the house.
Microfibers
This name refers to the group of synthetic fabrics with shiny surface, high durability and that are easy to maintain.
Thanks to the special layer, they do not absorb dust so they are recommended for people who suffer from allergies.
Alcantaras
Soft, durable fabrics made of small threads that are easy to clean. They are similar to suede but for sure easiest to keep clean.
Fleeces
Soft, fluffy, incredibly mellow fabrics that are mainly devoted to classic interiors in Vintage Style. The are very durable but require special care in cleaning.
Jacquars
Incrediby decorative fabrics made for modern, elegant interiors. Mostly used for antique upholstery. Easy to clean and very durable.
Flocks
Similar to satin but the thread is not woven but sticked thermally. These fabrics are soft, durable as well as easy to keep clean.
Natural Leather
Natural leather is considered as the most universal fabric. It does not absorb dust so it is safe for people who suffer from allergy. What's more it's easy to clean, looks elegant and does not need any special maintenance.
Faux leathers
These are so called ' eco- leathers' that imitates natural leather. Fabrics from this group are easy to clean but like the natural leather have a tendency to preheat or cool down.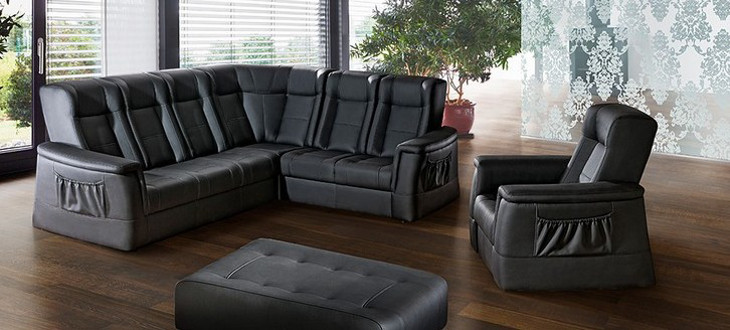 Corner Sofa BENY
Match fabric to home and furniture decor
Each kind of fabrics has its own unique style. Your fabric choice shoud be harmonious with house as well as furniture decor. Some of the materials give the impression of casuality,while others look more formal and elegant. The best choice for an old armchair in Louis Style wil be plush or jacquard while for massive lounge suite in traditional elegant living room- natural leather.
Most depends on what effect we would like to achieve. For cosy warm interiors, soft and flossy fabrics will be the most apriopriate while natural leather will be better for elegant classic interiors.
The choice should be based on aesthetic preferences but also on room decor. We should remember that you can be quickly bored with trendy fabrics and patterns as the styles are constantly changing and some things are becoming out of date even after one month. In fact your can choose more than one kind of fabric, You can mix two types of fabrics of different texture and colour. In such a case remember about style and proper contrast. The fact that patterned fabrics are out of date does not mean that we should choose only plain fabrics. If we would like to create romantic interior in Provencal Style, soft flower pattrens would be ideal. Geometrical patterns especially in black and white are now one of the most popular trends. But we should consider the fact that such trends pass quickly. What's more pattren size should be proportional to room size.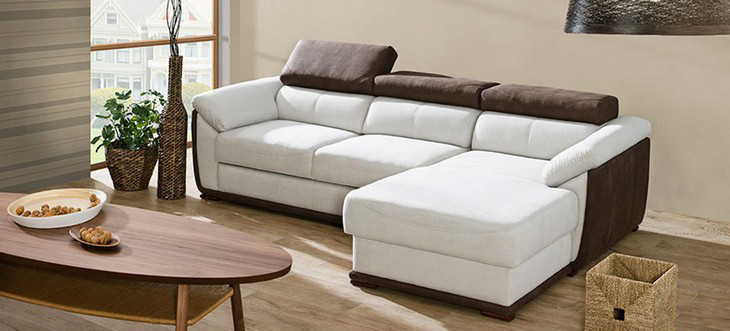 Corner Sofa LUNGO
Think about parameters
When we choose a fabric we can encounter a lot of unknown words that refer to the most important fabric properties.
Below the list of parameters we should look at:
Abrasibility Tests - with reference to Martindale abrasibility scale.(fabrics above 50 000 cycles can be characterized by high resistance to abrasion)
Pilling Resistance Test - it determines the resistance to the formation of pills on the fabric surface. Here 5 - step scale is used when 5 refers to the highest resistance
Grammage expresses weight per unit area and is measured in g/m. (the higher grammage is, the thicker is material)
UV Rays Resistance - in other words fade resistance - how fast the material become faded when exposed to sunlight
Stretching degree - the degree of strain to which we can stretch material till it breaks apart
Ingredients: PL/PES (polyester), PA (polyamide), PAN (polyacrylonitrile), PP (polipropylene), PU (polyurethane) , EL (spandex /elastan), NY (nylon)