Interiors decorated in subdued, dark colours are extremely elegant and atmospheric. Dark purple, navy blue or burgundy in the bedroom are conducive to relaxation, allow you to create a unique space that pleases the eye. Beautiful burgundy or emerald greens will be a great alternative (or complement) to white and gray. The Mebline online store offers high-quality furniture and accessories for a classic and modern bedroom bathed in elegant, dark tones.
A modern arrangement of a dark bedroom
Furniture in the shade of dark oak Monastery will be perfect for a chic arrangement of a rest room. They will perfectly correspond with the fashionable maximalist trend, but not only. GALAXY bedroom furniture is one of the offers of our e-store. Black shiny inserts on the fronts of wardrobes, chests of drawers and bedside tables add character to the whole. The set includes a comfortable bed measuring 160 x 200 cm (the collection includes models in other sizes). The furniture is made of a strong, durable laminated board.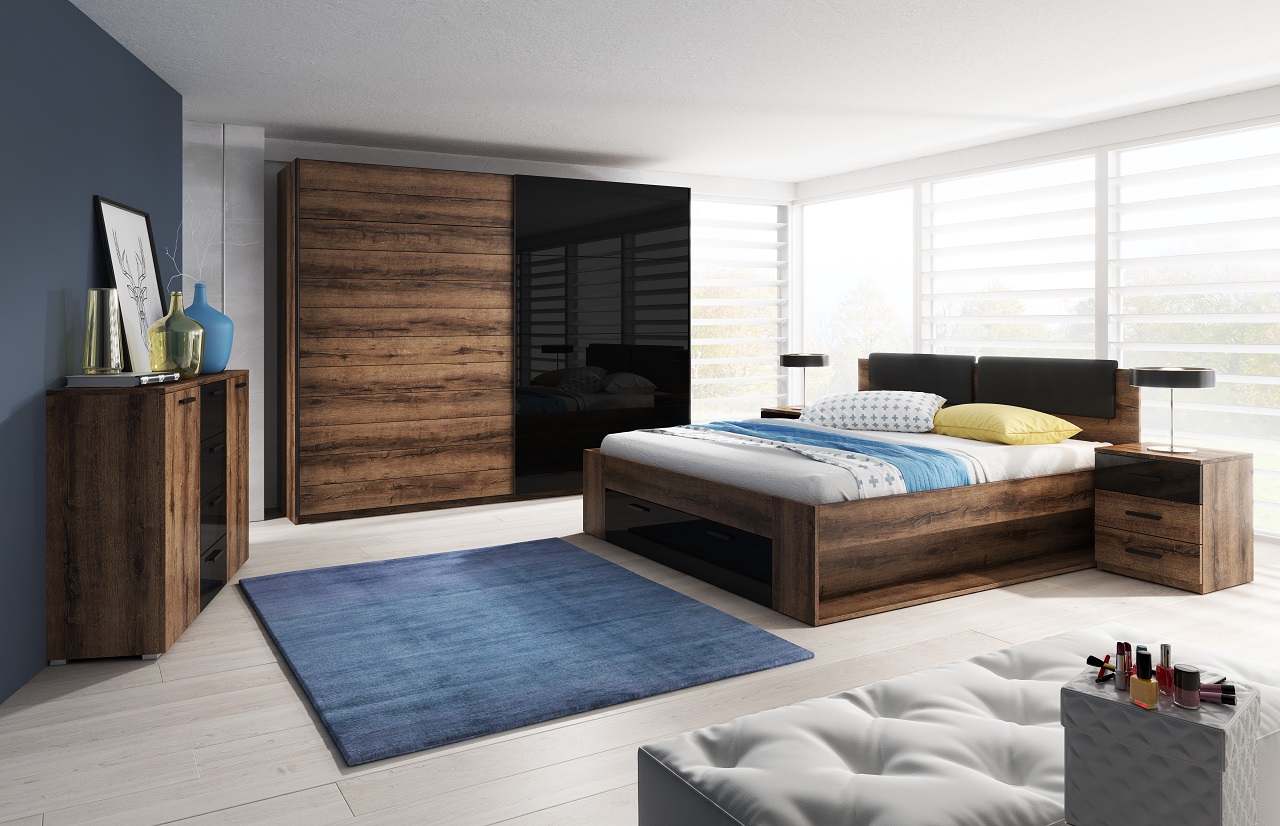 Lovers of modern arrangements will love the DENVER set, which includes a bed, a sliding wardrobe, a chest of drawers and bedside tables. Black inserts made of graphite glass and effective LED lighting will bring a unique atmosphere to the arrangement of the bedroom, conducive to relaxation.
Dark elements of interior design can be found in many modern designs inspired by the urban jungle, scandi chic, loft or minimal styles. Subdued arrangements inspired by nature are very popular. Here, wooden furniture will be perfect. An example is the BONO set, which includes a bed, a sliding wardrobe, two bedside tables and a chest of drawers. This collection is in line with the current interior design trends. It is distinguished by attention to detail, functionality and high aesthetic value. In a spacious sliding wardrobe we organize clothes, leather goods, shoes, home textiles and much more. A functional container will also be useful, for example the BONO model with three drawers.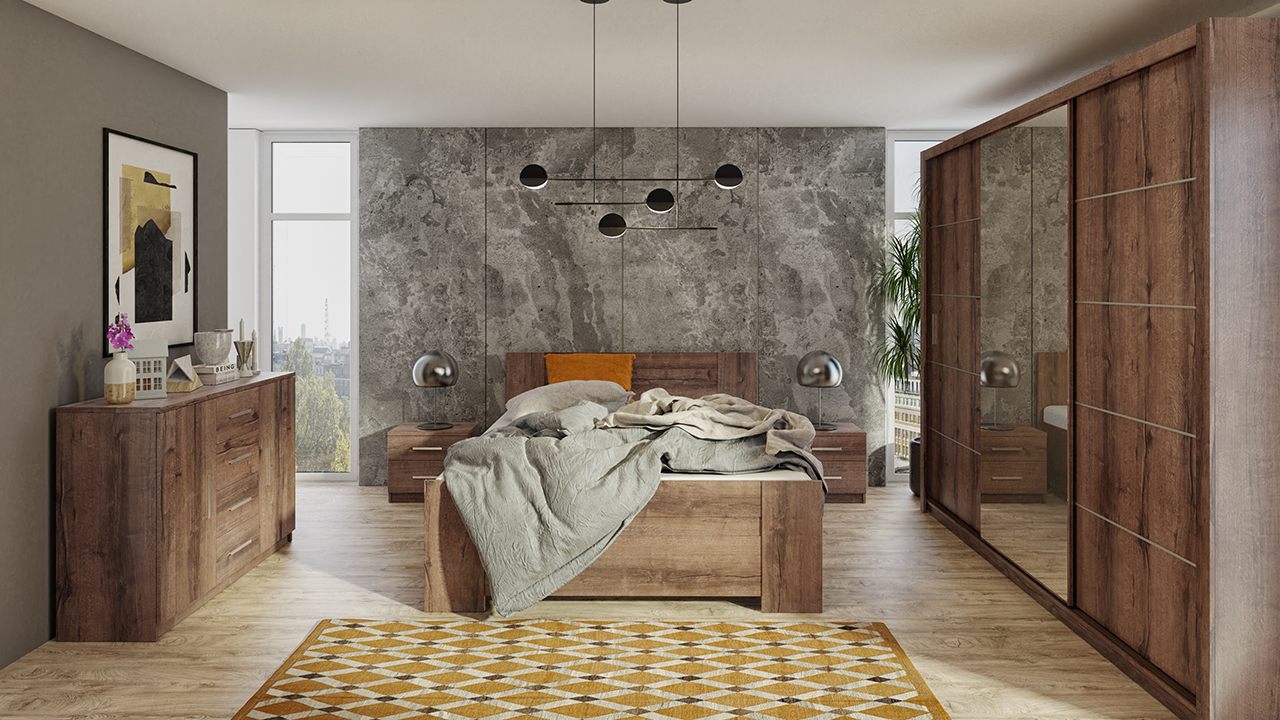 Furniture and accessories in dark colours will also work great in stylish bedroom designs inspired by the glamor style, in which there are noble fabrics, velvet pouffes and upholstered headboards. The subdued colours of the walls can also be combined with contrasting white and delicate pastels.
Classic bedroom with dark furniture
The dark colours are perfect for classic interior arrangements. Stylish EVORA furniture in a shade of dark green deserves attention. This collection is distinguished by timeless design, careful workmanship and functionality. The set includes a spacious wardrobe with a mirror, two bedside tables, a bed measuring 160 x 200 cm and a chest of drawers. The whole thing is made of a solid laminated furniture board. Individual modules are equipped with inserts in the colour of Lefkas oak, which add coziness to the arrangement.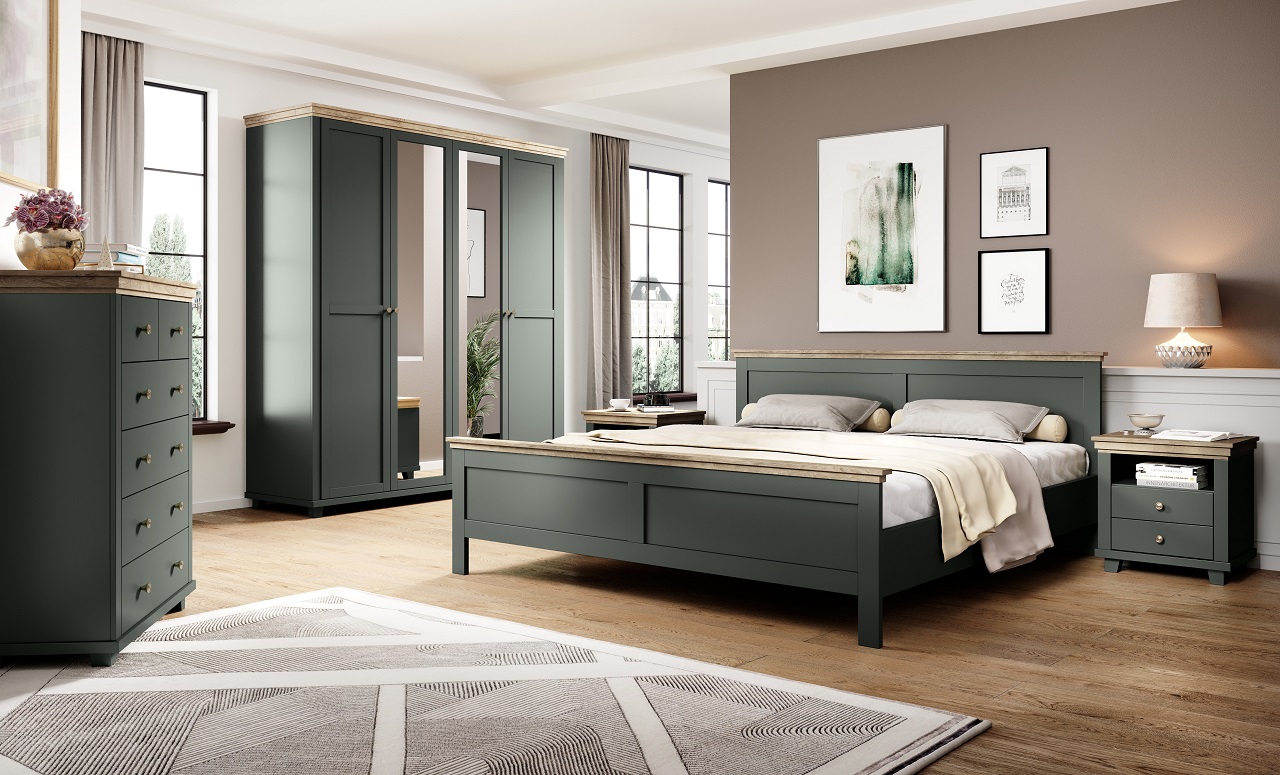 A bedroom with a bit of luxury
The glamour style is inevitably associated with elegant colours. An example of a piece of furniture that perfectly corresponds to this aesthetic can be a beautiful upholstered MONROE bed, equipped with effective quilting on the headboard. This model is equipped with two large containers for bedding, a high-quality base mattress and a topper. A solid continental bed will be a perfect complement to an elegant bedroom.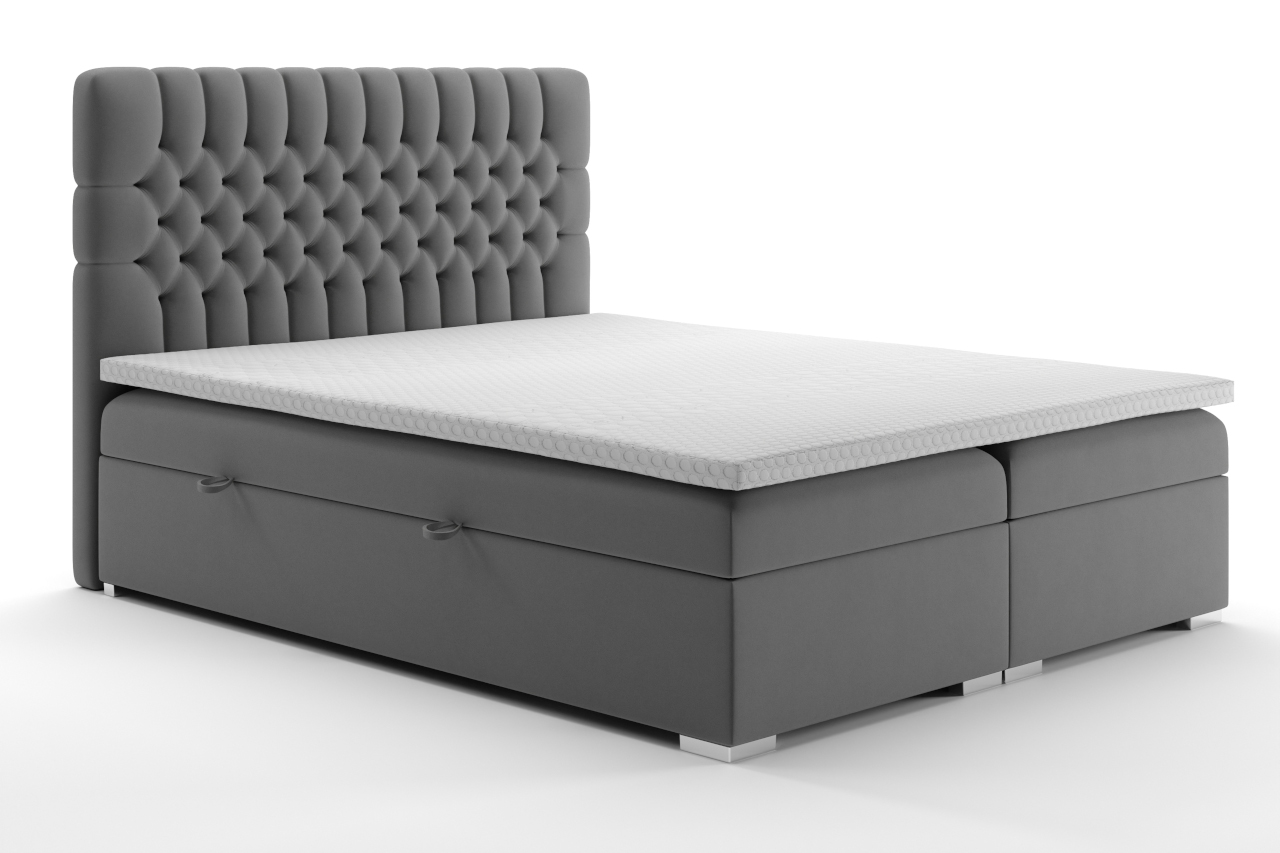 Maximalism with a capital "M"
Furniture, accessories and finishing elements in dark colours fit, among others, into the maximalist trend, which is a counterbalance to the equally fashionable minimalism. Maximalism is combining different colours, textures and materials into one coherent whole. It likes floral patterns, floral motifs on wallpapers and textiles, intricately made decorations, and eclectic combinations of seemingly mismatched elements. In such arrangements, upholstered furniture is welcome, including beds, pouffes and elegant benches. An example is the MOKKA model with a gray velvet seat and golden legs. It is worth breaking the dark colours of walls, floors and furniture with shiny accessories - lamps, cupboard handles, textiles.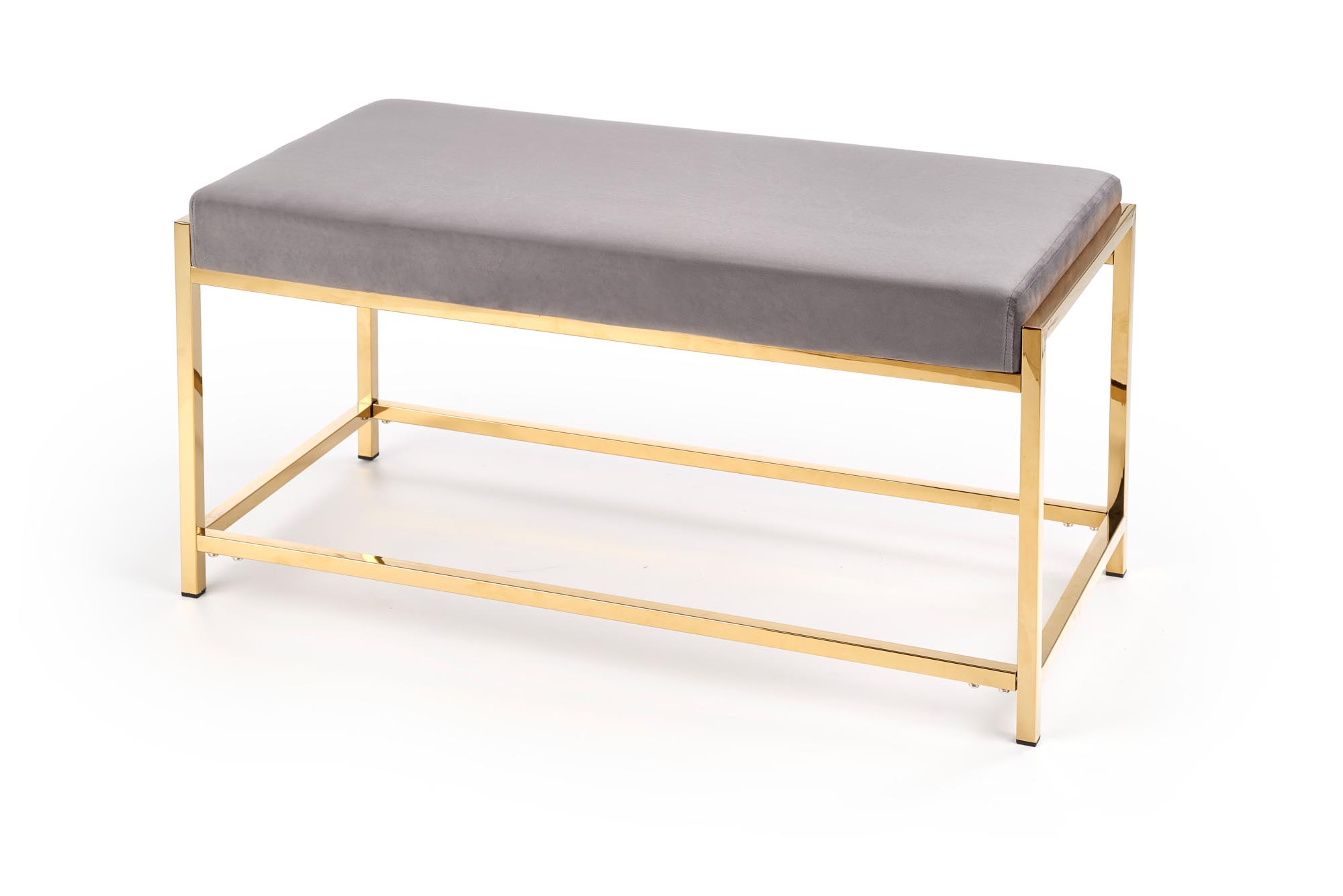 A few arrangement tips:
- what colours from the darker colour palette will work in the bedroom? They can be green, plum purple, navy blue, burgundy, black, graphite, dark gray
- in their company, accents in shades of gold, silver, copper, as well as subtle pink, chocolate brown and neutral white will look great
- how to arrange a small bedroom in dark colours? In the case of a small area, let's focus on dark furniture and a lighter colour of the walls; in a small room, it is recommended to paint only 1-2 walls a darker colour in such a way as to maintain the proportions of the room
- dark tones will optically improve the proportions of the room, hide its flaws and highlight its advantages, and shiny accessories and a mirror image motif will add spaciousness to the interior - it should be remembered that a dark interior requires adequate lighting with both daylight and artificial light
- it is worth uncovering the windows and equipping the arrangement with elegant lamps, sconces, bedside lamps, which will additionally add coziness to the interior.
Are you looking for stylish bedroom furniture? We encourage you to familiarize yourself with the full offer of the proven Furnitop online store!