Almost everyone dreams of being woken up by the morning rays of the sun, and sometimes also of seeing the sea, lake, mountains or at least a few trees through the bedroom window right from the bed. Unfortunately, reality is often a bit different than dreams. That does not mean it has to be worse.
What can compensate for the lack of windows?
Contrary to appearances, a bedroom without a window may have advantages. First of all, the problem of light pollution disappears. Through the windows, light from lanterns that shine all night or the moonlight, which is exceptionally bright at full moon, often enters the bedroom. These are very common causes of sleep disorders, which are solved by a bedroom without a window (although it is not the only solution). At night, therefore, there is no problem in sight, but when morning comes, a dark bedroom without natural light can negatively affect your well-being.
How to avoid it? First of all, using an appropriately light colour of the walls. If someone hates white, make it very bright pastels. Another important element is artificial lighting. Large chandeliers and lamps with strong shades of light are not recommended in the bedroom. Panel lamps, each of which can be directed in a different direction, will be a perfect solution. Ideally, for each wall (if there are four), a light colour of paint or wallpaper will perfectly reflect and diffuse the light. The interior will be bright and the householders will not feel like being interviewed. A floor lamp with a large lampshade made of paper or milk glass placed in the corner of the bedroom can play a similar role. Light bulbs in warm shades and bedside lamps will work great. Glazed doors can play an additional role in providing illumination if natural light comes from the corridor or adjacent room.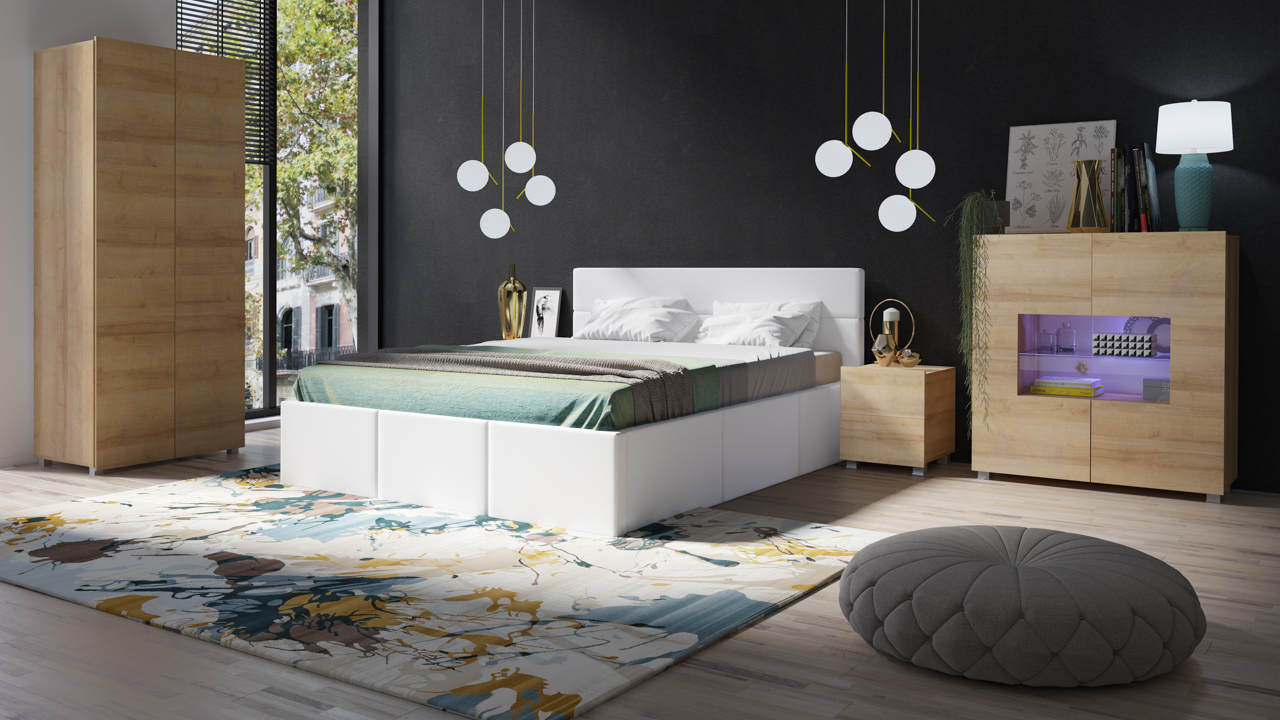 Bedroom furniture - what about it? It is worth taking care not to be heavy, massive and dark. Bright colours and light structures will work well. Such bright colours (white, grey, light wood) give a lot of possibilities for colourful accessories (pillows, lamp shades or photo frames).
How to enlarge a small bedroom?
If possible, put a wardrobe in the hallway, not in the bedroom. You will then gain a lot of space. Let only a small chest of drawers for underwear remain in the bedroom. Furniture of this type with a narrow and high structure will be perfect for small interiors. It should be remembered that in small rooms you have to stick to the principle: "The less the better". The same principle also applies to decorative items and knick-knacks (various figurines, vases, souvenirs, stuffed animals or countless photos). Their absence makes the sleeping room lighter and more spacious.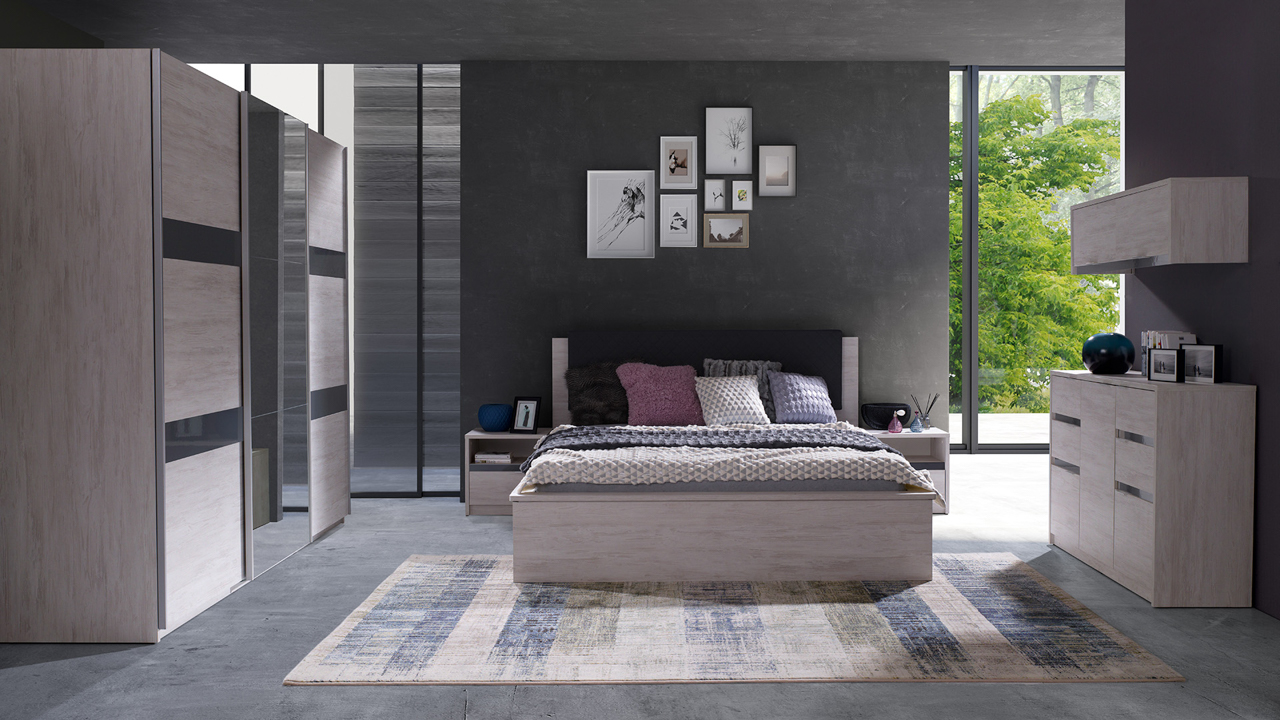 The aforementioned colours of the walls and appropriate lighting also make the bedroom seem larger. Light colours reflect light and dark ones absorb it (the interior seems cozier, but also smaller). Speaking of reflection - mirrors will also optically enlarge the room. Especially not in width, but height. These can be a wardrobe door (Vera wardrobe) or a glass sheet integrated into one of the walls (horizontally or vertically). The mirror will create depth that will make the bedroom seem more spacious.
Spatial depth can also be created by photos (formerly called photo wallpapers) with high-quality printing and a properly selected image. Full-wall photograph is the optimal solution. Various types of roads (in a forest, park, in the mountains, on the beach, through a field of lavender or tulips), landscapes from a long perspective (like from the window of a skyscraper or the top of a Greek island) or architectural elements (cloisters or corridors) will work great.

A small bedroom without a window is not that scary at all
As you can see, the lack of a window and the small size of the room does not mean that you cannot conjure up a bright space, a positive and a unique atmosphere conducive to well-being and effective rest. It is worth remembering that the lack of a window also means limited air circulation. Adequate ventilation and regular airing of bedding in the fresh air will be necessary, as well as control of air humidity, which determines proper breathing and healthy sleep.
Check out our bedroom furniture in the furnitop online store