The white colour looks very good in the living room. In the past it was associated with sterile, "hospital" scenery, today it is an extremely graceful background for the most imaginative arrangement ideas. Why is it worth choosing white furniture for the living room? There are at least several reasons.
Innumerable arrangement
White furniture suits any type of interior. They look great in English, Provencal, Scandinavian or shabby chic-style arrangements. Shades of white appear in both modern, minimalist and classic interiors with a touch of romanticism. The sofa, chest of drawers or table in white tones perfectly harmonize with the bolder colour of the walls and floors. White opens up a wide range of possibilities for us, and in addition optically enlarges the interior, which seems more spacious and bright.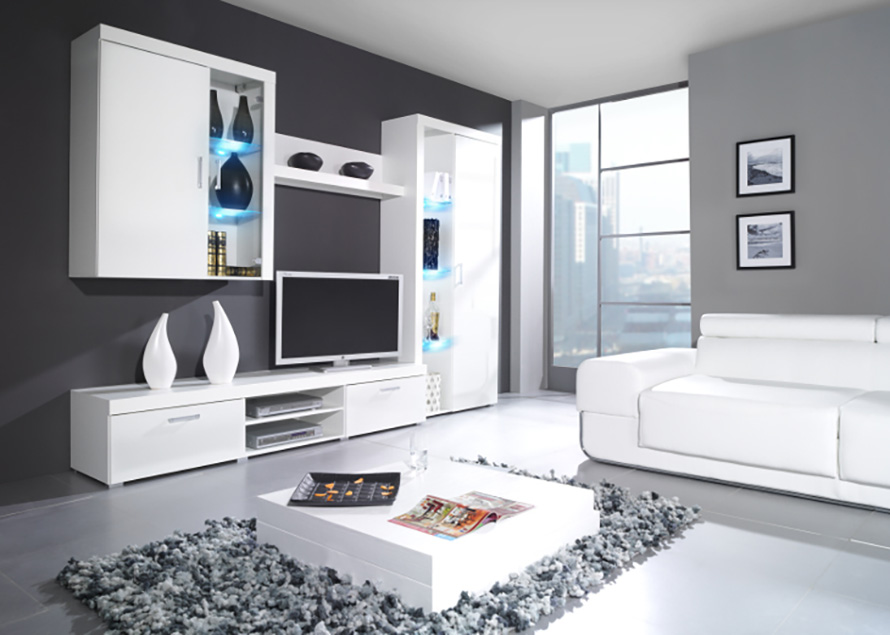 Focus on emphasising
White furniture surfaces allow you to highlight the beauty of the objects that surround us - a decorative vase, elegant photo frames or floral cushions on the sofa. A white bookcase or shelf will be a good place for trinkets and souvenirs from travel - items presented in this way (to enhance the effect can be illuminated) certainly will not escape the attention of guests.
An interesting suggestion is to combine white furniture with black accessories in the form of lamps, curtains or graphics. This combination is often used in interiors maintained in art deco and glamor aesthetics.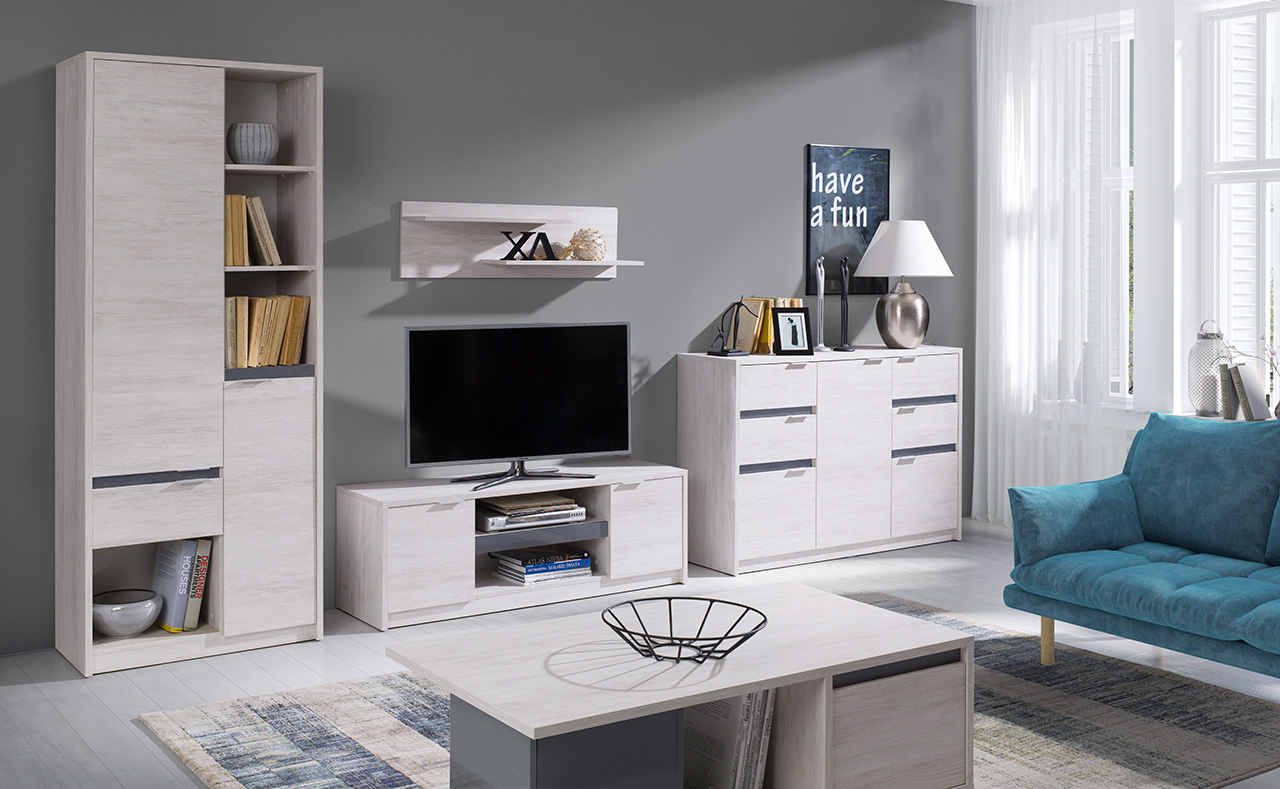 Arranging of the white furniture
White is the base colour for marine style decor. It is enough that we choose blue curtains and cushions with an anchor or wave motif for a white sofa or corner, and the interior will acquire a Mediterranean character. White blends perfectly with shades of grey and green, so if you want to liven up the interior, just put in the living room green plants, flowers or fluffy bedspreads with a floral pattern.
Where to find white furniture for the living room?
The Mebline store is the only place where you can find excellent quality furniture at an affordable price. White chest of drawers to the living room, elegant display cabinets with LED lighting, tea and coffee tables, functional upholstered furniture in white are just some of the assortment of the online store Mebline.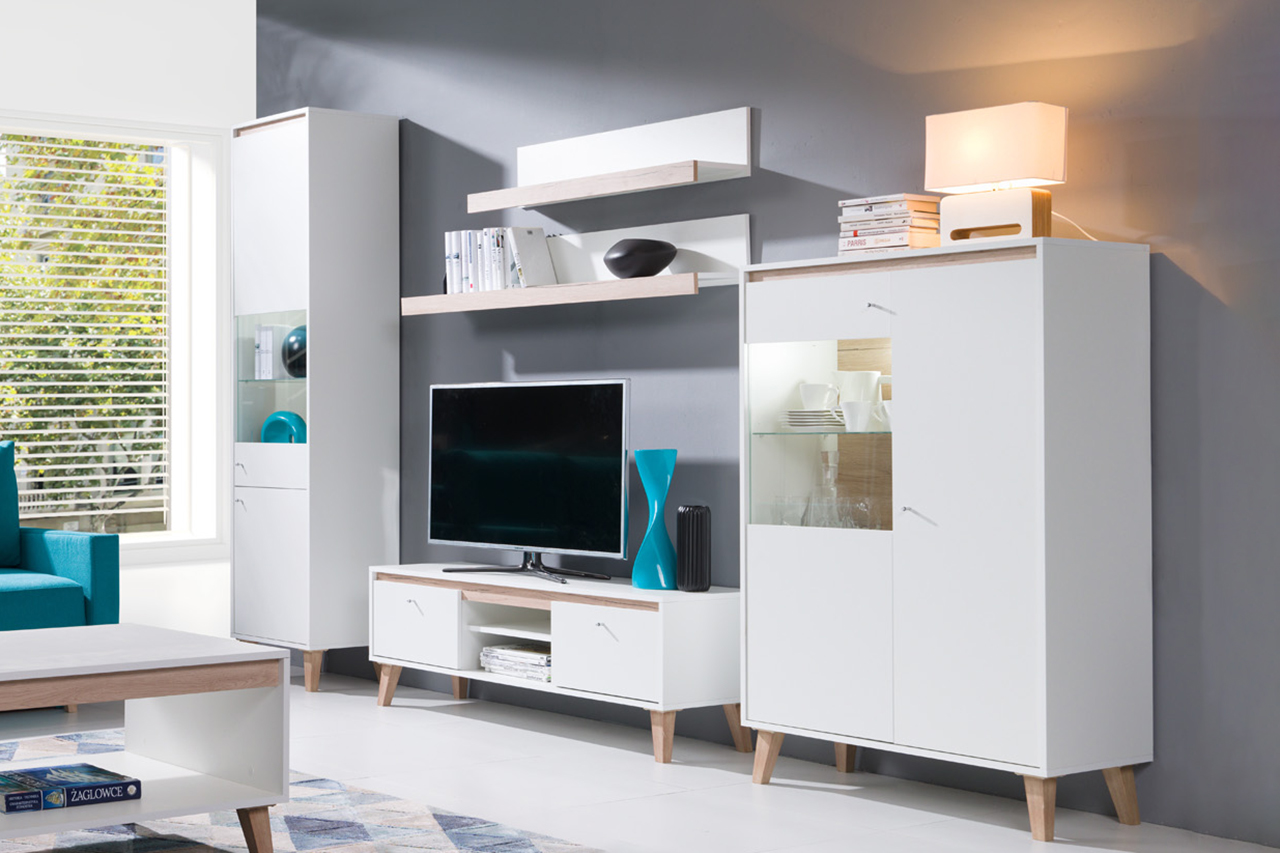 The wide offer also includes white system furniture for the living room. Particularly noteworthy are the "Denver" elegant furniture sets, as well as the high-gloss furniture collections from the "Samba" line. Lovers of Scandinavian style will like the "Bjorn" and "Milan" lines, which are characterised by remarkable simplicity and functionality.
Furniture for every budget
In the diverse offer of Mebline store you can find modern and stylised furniture, sold individually or in ready sets. What makes them different? First of all, the quality of workmanship, attention to the smallest detail and attractive price. Are you looking for white furniture for the living room or other room in the house? Experts from Mebline are at your disposal!